A variety of promotional materials produced by the Pennsylvania Concrete Masonry Association
Our informative brochures and tip postcards promote educational opportunities and provide important relevant information to specifiers and other related industry professionals.
TIP POST CARD
3 FREE MASONRY WEBINARS PRESENTED BY INDUSTRY EXPERTS
Resilient Community Risk Reduction, an Economic Approach to Mult-Residential Structures | Elemasonry | Masonry Detailing Tips Part 2
TIP POST CARD
STUDY of INITIAL COST OF CONSTRUCTION
MULTI-RESIDENTIAL STRUCTURES with Updated Insurance Costs
The cost differentials and insurance costs are important to know when designing a multi-residential structure
Findings in reports after August 2020: Concrete Masonry is less expensive than light weight conventional wood frame and light gage steel framing AND insurance costs are significantly less!!
Go to BuildingStudies.org to see the Executive Summary of the Report and review the data for each city studied to date including Philadelphia, Harrisburg and Pittsburgh (which were updated with the new insurance figures).
TIP POST CARD
2 FREE MASONRY WEBINARS PRESENTED BY INDUSTRY EXPERTS
Energy Code Compliance with Concrete Masonry | Masonry Detailing Tips
TIP POST CARD
STORM SHELTER REQUIREMENTS IN IBC
Adopted with the 2015 version of the IBC, the new Building Code for Pennsylvania, Storm Shelters are required for all educational and critical emergency operation buildings within the high wind zone of 250 mph.
Concrete Masonry is the material of choice for the construction of these storm shelter areas within public buildings such as schools, libraries, fire halls, etc.
TIP POST CARD
FREE MASONRY WEBINARS
PRESENTED BY INDUSTRY EXPERTS
Masonry and Energy Codes - Effective Energy Compliance

New Direct Design of Masonry Software

Building Design Considerations to Help Mitigate Active Shooter Incidents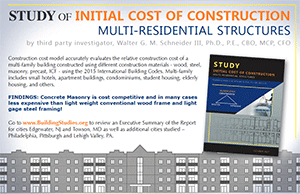 TIP POST CARD
STUDY OF INITIAL COST of CONSTRUCTION MULTI-RESIDENTIAL STRUCTURES
Fair and impartial evaluation of multiple types of construction and their relative cost for multifamily housing.
Findings: Concrete Masonry is cost competitive and in many cases less expensive than light weight conventional wood frame and light gage steel framing!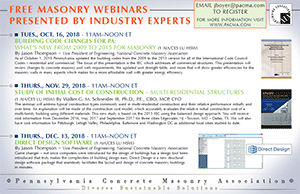 TIP POST CARD
FREE MASONRY WEBINARS
PRESENTED BY INDUSTRY EXPERTS
Building Code Changes for PA: What's New from 2009 to 2015 for Masonry

Study of Initial Cost of Construction - Multi-Residential Structures

Direct Design Software
TIP POST CARD
FREE MASONRY WEBINARS PRESENTED BY INDUSTRY EXPERTS
Recent Changes to Masonry Standards – Important Information You Need to Know

Energy Code Compliance for Exterior Masonry Wall Systems

BIM-M Building Information Modeling for Masonry – Status and Case Studies
TIP POST CARD
NEW SEGMENTAL RETAINING WALLS BEST PRACTICE GUIDE
For the Specification, Design, Construction, and Inspection of SRW Systems
When properly executed, SRW structures offer long-lasting solutions to a wide array of applications.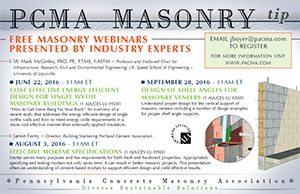 TIP POST CARD
FREE MASONRY WEBINARS PRESENTED BY INDUSTRY EXPERTS
COST EFFECTIVE ENERGY EFFICIENT DESIGN FOR SINGLE WYTHE MASONRY BUILDINGS

EFFECTIVE MORTAR SPECIFICATIONS

DESIGN OF SHELF ANGLES FOR MASONRY VENEERS
TIP POST CARD
CONCRETE MASONRY & ENERGY EFFICIENCY
Concrete masonry walls provide very effective thermal storage.
In addition to the thermal mass benefits, concrete masonry can provide continuous insulation.
Thermal Performance of masonry depends on its thermal resistance (R-Value) as well as its thermal mass.
TIP POST CARD
Geosynthetically Reinforced Soil - Integrated Bridge System (GRS-IBS)
The advantages of GRS–IBS Technology in construction of small bridges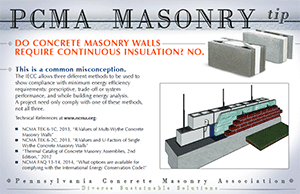 TIP POST CARD
Do Concrete Masonry Walls Require Continuous Insulation? No.
This is a common misconception.
The IECC allows three different methods to be used to show compliance with minimum energy efficiency requirements: prescriptive, trade-off or system performance, and whole building energy analysis. A project need only comply with one of these methods, not all three.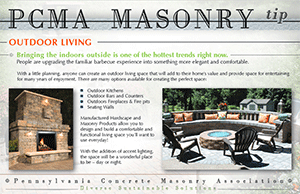 TIP POST CARD
Outdoor Living
Bringing the indoors outside is one of the hottest trends right now.
People are upgrading the familiar barbecue experience into something more elegant and comfortable.
With a little planning, anyone can create an outdoor living space that will add to their home's value and provide space for entertaining for many years of enjoyment.
TIP POST CARD
New Technologies for Segmental Retaining Wall
Segmental Retaining Wall (SRW) Construction Is No Longer One Dimensional And Limited To Only Gravity Walls And Geogrid Reinforced Walls.
Stabilized Aggregate

Sheet Pile Wall & Soldier Beam Wall Facing
TIP POST CARD
Resilient Communities – Preparing for Disasters
Why Use Reinforced Concrete Masonry?
Security from the ground up

Strength

Durability

Flexibility of design

Higher resale value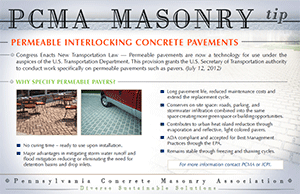 TIP POST CARD
Permeable Interlocking Concrete Pavements
Permeable pavements are now a technology for use under the auspices of the U.S. Transportation Department.
TIP POST CARD
New Concrete Block Configurations Allowed in ASTM C90-11B
More Sustainable

Increased Energy Efficiency

Impact on Wall Cost

Structural Strength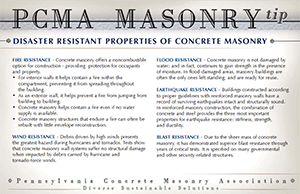 TIP POST CARD
Disaster Resistant Properties of Concrete Masonry
Fire Resistance

Wind Resistance

Flood Resistance

Earthquake Resistance

Blast Resistance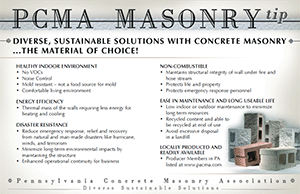 TIP POST CARD
DIVERSE, SUSTAINABLE SOLUTIONS IN CONCRETE MASONRY ...THE MATERIAL OF CHOICE!
Healthy indoor environment

Energy Efficiency

Disaster Resistance

Non-combustible

Ease in maintenance and long useable life

Locally produced and readily available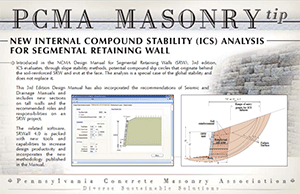 TIP POST CARD
INTERNAL COMPOUND STABILITY (ICS) ANALYSIS FOR SEGMENTAL RETAINING WALL
NEW Internal Compound Stability (ICS) Analysis for Segmental Retaining Wall. Do you know how to analyze compound stability failures on SRWs?
TIP POST CARD
CONCRETE MASONRY & THERMAL MASS
Buildings constructed with masonry can require 18% - 70% less insulation than similar frame buildings, while still providing an equivalent level of energy efficient performance.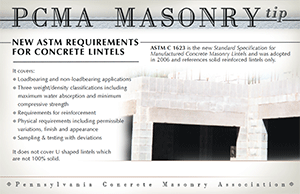 TIP POST CARD
NEW ASTM REQUIREMENTS FOR CONCRETE LINTELS
ASTM C 1623 is the new Standard Specification for Manufactured Concrete Masonry Lintels and was adopted in 2006 and references solid reinforced lintels only.
TIP POST CARD
CRACK CONTROL IN CONCRETE WALLS
Whenever materials with different properties are combined in a wall, like concrete masonry units, reinforcing steel, grout and mortar, a potential exists for cracking.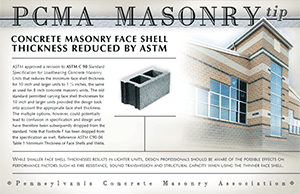 TIP POST CARD
CONCRETE MASONRY FACE SHELL THICKNESS REDUCED BY ASTM
ASTM approved a revision to ASTM C 90 Standard Specification for Load bearing Concrete Masonry Units that reduces the minimum face shell thickness for 10 inch and larger units to 1 ¼ inches, the same as used for 8 inch concrete masonry units.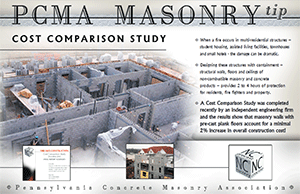 TIP POST CARD
COST COMPARISON STUDY
A Cost Comparison Study was completed recently by an independent engineering firm and the results show that masonry walls with pre-cast plank floors account for a minimal 2% increase in overall construction cost!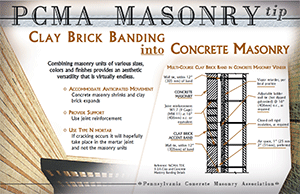 TIP POST CARD
CLAY BRICK BANDING INTO CONCRETE MASONRY
Combining masonry units of various sizes, colors and finishes provides an aesthetic versatility that is virtually endless.
TIP POST CARD
INCREASED GROUT LIFT HEIGHT REQUIREMENTS
The maximum height for a grout lift* has been increased from: 5' to 12' 8"
*increment of grout height within a total grout pour
INFORMATIVE BROCHURE
DIVERSE SUSTAINABLE SOLUTIONS WITH CONCRETE MASONRY
We can do better. We must do better. Building better buildings will have a direct impact on our changing climate. And building better buildings also means selecting the best material. Concrete masonry and its family of building products are by far one of the most sustainable, encompassing all the qualities of an environmentally responsible material.
INFORMATIVE BROCHURE
THE COMMON SENSE BASEMENT FOR YOUR HOME
Think SMART - increase your living space with a cost effective, energy efficient and DRY concrete block basement.
ECONOMICAL + ENERGY EFFICIENT + MOLD RESISTANT & STRONG & DURABLE
Construct your basement with concrete block and comply with the International Residential Code (IRC).